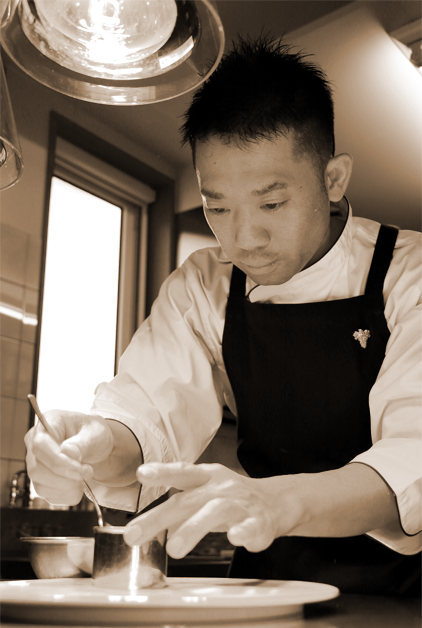 シェフ 宮澤一成
ここ長野県飯田市でお店を構え12年目に入りました。
 すぐそばにいる生産者の皆さんから届く、素晴らしい食材を新鮮なままお客様にお出しできる料理環境、ご来店くださるお客様、スタッフ、友人、家族、、僕に関わるすべての人に心から感謝申し上げます。
プロフィール
長野県下伊那郡松川町出身。
高校卒業後、都内の大学に進学。
大学時代のイタリア料理店でのアルバイトがきっかけで
大学卒業後に料理の世界へ。
都内のイタリア料理店で修行後、渡伊。
ピエモンテ州の家族経営のリストランテ,トスカーナ州の一つ星リストランテで1年間 修行を重ねる。
帰国後代官山と恵比寿のイタリア料理店で約4年間料理長を勤める。
2012年飯田市にてロカンディーナ ミヤザワをオープン
2016年 JSAソムリエ認定資格取得
Chef Kazushige Miyazawa
This is our 12th year since we opened our restaurant in Iida-city, Nagano.
We are sincerely grateful for such a rich environment where we can serve fresh and vibrant ingredients to our customers straight from local producers. Well as, always, in our deepest gratitude to our customers, staff, friends, families, and all people who have influenced and affected ourselves.
Profile
Chef Kazushige Miyazawa was born in Matsukawa-town, Shimoina county, Nagano Prefecture, just next to Iida city. After graduating from Senior high school, he continued his education at University in Tokyo. During that time, he takes a part-time job at the Italian restaurant where he finds his passion for cooking and takes his career towards the cooking industry.
Following the years of training at the Italian restaurant in Tokyo, he expands his training abroad to Italy. Where he joins a family-owned ristorante in Piemonte, then joining Michelin 1 star ristorante in Tuscany for a year. After returning to Japan, he was appointed as a head chef at an Italian restaurant in Daikanyama and Ebisu in Tokyo for four years.
In 2012, he opened Locandina Miyazawa in Iida-city.
Acquired and received a certificate for JSA sommelier in 2016.

力強く美しい、南信州食材とともに。
当店の食材の約9割は飯田下伊那、南信州産の素材です。
果物、野菜、ジビエ(鹿、熊、猪など)、信州ポーク、南信州牛、遠山地鶏、信州サーモン、アマゴ、天龍鮎…etc。
恵まれた自然がすぐそこにあり、新鮮な旬の食材が手に入ります。
店舗のすぐそばでは、日本一と思える鮎を育てている生産者さんがいて時期になると生きたまま厨房に届きます。
極太のグリーンスパラを育てている農家さんもおり、採れたてを朝1番で店に届けてくれる。
料理人としてこの最高の食材たちを使わない手はありません。
どうぞ、南信州の力強い旬の食材をお楽しみください。
Magnificently and stunning Southern Shinshu ingredients
Our restaurant handles roughly 90 percent of our ingredients from Southern Shinshu, Iida-Shimoina district, which includes fruits, vegetables, gibier(Wild game, deer, bear, boar, etc.), Shinshu pork, Southern Shinshu beef, Tooyama pedigree chicken, Shinshu Salmon, Amago trout, Tenryu Ayu trout, etc.
Abundant nature sits right under our nose, providing us with vast fresh and seasonal ingredients.
Trout farmer just around the corner from our restaurant grows one of the best Ayu trout in Japan and delivers fresh and alive right to our door in seasonal time.
As well as, a farmer grows very thick asparagus and delivers them first thing in the morning after the harvest. As a chef, there is no reason not to use such amazing ingredients.
Enjoy and indulge the magnificent and seasonal produces of Southern Shinshu.

今の自分にしか表現できない料理を。
僕の料理は「フランス料理みたい」「和食っぽいね」と、たまに言われますが、どちらも褒め言葉として受け止めさせて頂いてます。
僕自身イタリア料理の経験しかないので、基本的にはそれがベースになります。しかし、歳を重ねるごとに個人的に薄味が好みになってきたり、調理法がシンプルになってきたり、時にはイタリア料理の枠を少し外れた料理も作るかもしれません。
僕自身のフィルターを通して、このお店を構得た南信州という場所でしか作れない、自分らしい料理をこれからも作っていきたいと思います。
Shape dishes to express my signature
Once in a while, we receive comments from our costumers who describe our dishes like French cuisine or as Japanese. In any case, we accept them all as compliments.
My career is based only on Italian cuisine and has been the life platform of my cooking. However, as age gains, personal tastes adapt to prefer lighter seasoning, cooking methods simplify, or on occasion, I step out of boundaries of Italian cuisine.
My personal filter will continue to appreciate the land and nature of Southern Shinshu and to create and shape my cuisine with my signature.

今日という特別な日を彩るために。
当店は記念日やお誕生日、その他特別な日、ハレの日にご利用頂くことが多いです。
皆様の記憶に残る素晴らしい記念日になるよう、微力ながらお力添えさせて頂きます。
メニューは固定せず、細かいところでは毎週、毎月、大きい部分では四季によって、地元の農家さんが育てる野菜などの移ろいで徐々に変わっていきます。
無理な仕入れに頼らず、身近で採れる食材の変化に応じて料理を組み立てます。
そうすることで、一生に一度となるその特別な日の思い出を彩る料理を提供できると考えています。
当店でのお食事の時間が記憶に残る、素晴らしい時間になるよう誠心誠意、スタッフ一同努めてまいります。
To illuminate the special day.
Many of our customers use our restaurant for an anniversary, birthday celebration, or other special occasion or just on a happy day. We strive to provide our customers with the utmost care to make their special occasion to be unforgettable moments.
The menu is never fixed however kept adjustable and flexible. As our local farmers grow their produces through the natural changes, likewise, we make our slight adjustments through a weekly to monthly basis to dynamic change through the four seasons.
As we discourage unreasonable stocking, our menu adapts with local produces available on a day. By doing so, we truly believe we can illuminate their once in a lifetime special occasion with our cuisine.
Together with our heart and soul, our staff and I aspire to serve for a forever magical and memorable moment at your time here at our restaurant.